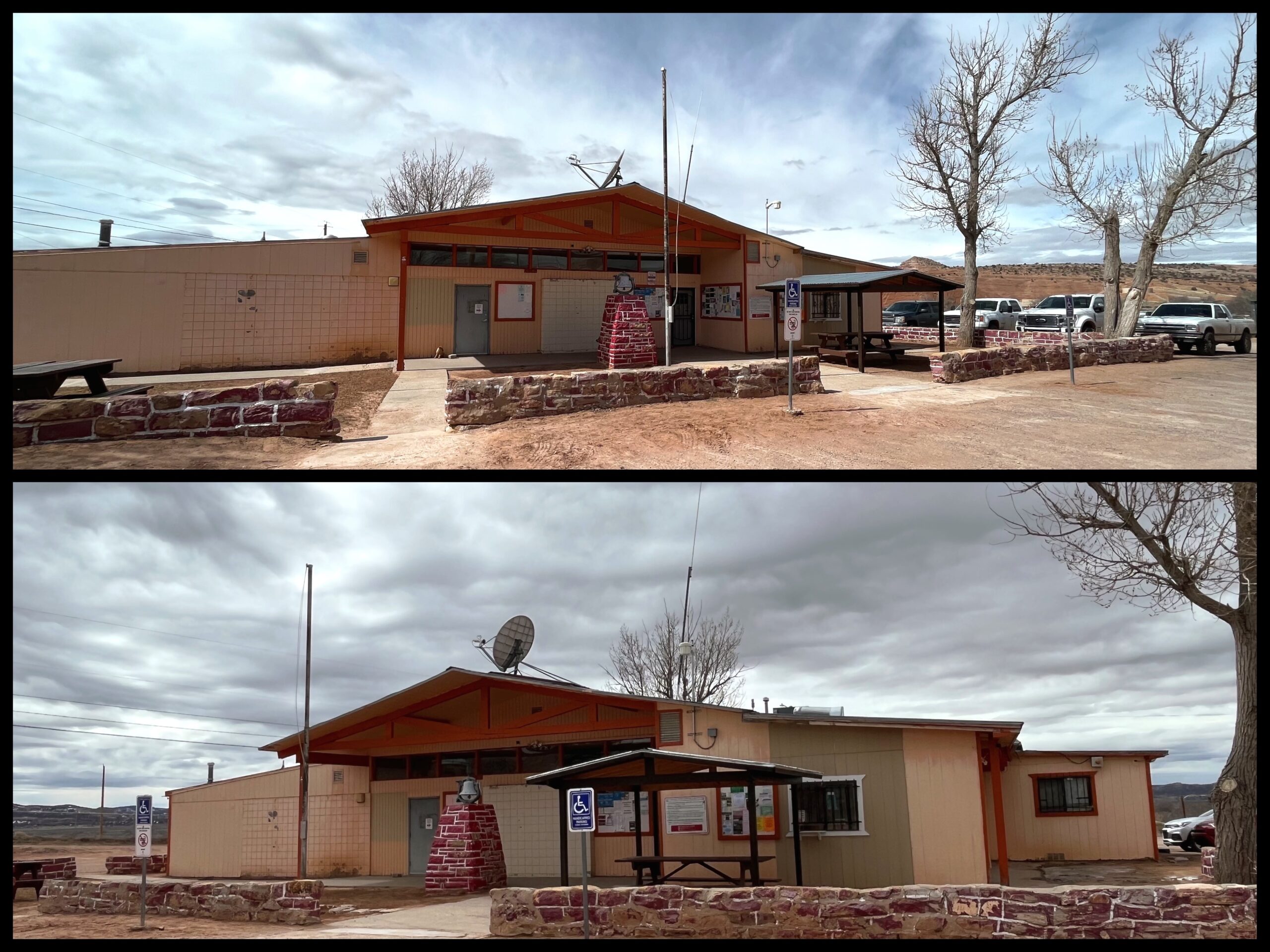 About Us:
Churchrock Chapter is just 5 miles East of Gallup, New Mexico, being located at the intersection of Historic Route 66 and U.S. Highway 566. Established on May 3, 1979, Churchrock Chapter has been serving its community for over 4o years, with its population nearing 2800 residents. We currently serve residents in Churchrock, Sundance, Rehoboth, Superman Canyon, Uphill, Hardground Canyon, & Gallup.
OFFICIALS    2021-2024
PRESIDENT:
Larry King
Contact: lking@naataanii.org
VICE-PRESIDENT:
Dr.Carolene Whitman
Contact: cwhitman@naataanii.org
SECRETARY / TREASURER:
Francine Smith
Contact: fsmith@navajochapters.org
LAND BOARD:
Emery Chee
COUNCIL DELIGATE:
Steven Arviso
LEGISLATIVE DISTRICT ASSISTANT (LDA):
Heather Kinlacheeny
COMMUNITY HEALTH REPRESENTATIVE (CHR):
Sylvia Largo
STAFF
ACCOUNT MAINTENANCE SPECIALIST (AMS):
Sabrena Eley
COMMUNITY SERVICE COORDINATOR (CSC):
Vacant
OFFICE ASSISTANT:
Jessicca Jimenez
WALK-UP SERVICE WINDOW ASSISTANT:
Vacant
JANITOR:
Tyson Begaye
PEP LABORERS:
Kenneth Lee
& 
Leonard Yazzie
BACKHOE SERVICE OPERATOR(S):
Johnny Livingston
Housing Discretionary
Church Rock Chapter's Housing Discretionary is currently closed. It will be available again for Spring 2024.
DEADLINE: Friday; August 18, 2023 BY 4:00PM
Employment Positions
Churchrock Chapter is currently hiring for two Office Assistants. Opening Date: Tuesday; September 12, 2023                                          Closing Date: Friday; September 29, 2023 BY 4:00pm 
Churchrock Chapter is also currently hiring for (2) PEP Laborers. Opening Date: Friday; September 22, 2023                                             Closing Date: Friday; October 6, 2023 BY 4:00pm
*Applicants must submit all required documents along with a completed application if interested. 
*Applications are available at the chapter during business hours. 
*Any questions can be asked in person or over the phone. 
*Applications will not be accepted after deadline. 
2023 Scholarship Update
Church Rock Chapter is currently not accepting applications for the fall 2023 college semester. The application will be available again for the Spring 2024 semester.
OPENING DATE: TUESDAY; JUNE 20, 2023
CLOSING DATE: MONDAY; JULY 31, 2023 BY 4:00PM
2023 Septic Cleaning Applictions
Septic cleaning applications are no longer being accepted and is now closed. The chapter was accepting the first 30 applicants who also paid for the service. The next time the septic cleaning service opens, it will be announced and applications will be available again. 
CHURCH ROCK CHAPTER'S TRASH DUMPSTER RATES
****CASH ONLY****
1 Bag of Trash . . . . . . . . . . . $1.33 
2 Bags of Trash . . . . . . . . . . $2.66
3 Bags of Trash . . . . . . . . . . $3.99
4 Bags of Trash . . . . . . . . . . $5.32
5 Bags of Trash . . . . . . . . . . $6.65
6+ Bags of Trash . . . . . . . . . . $7.98
EFFECTIVE FRIDAY; SEPTEMBER 1, 2023 NEW PRICES FOR TRASH BIN DUMPING ARE LISTED ABOVE.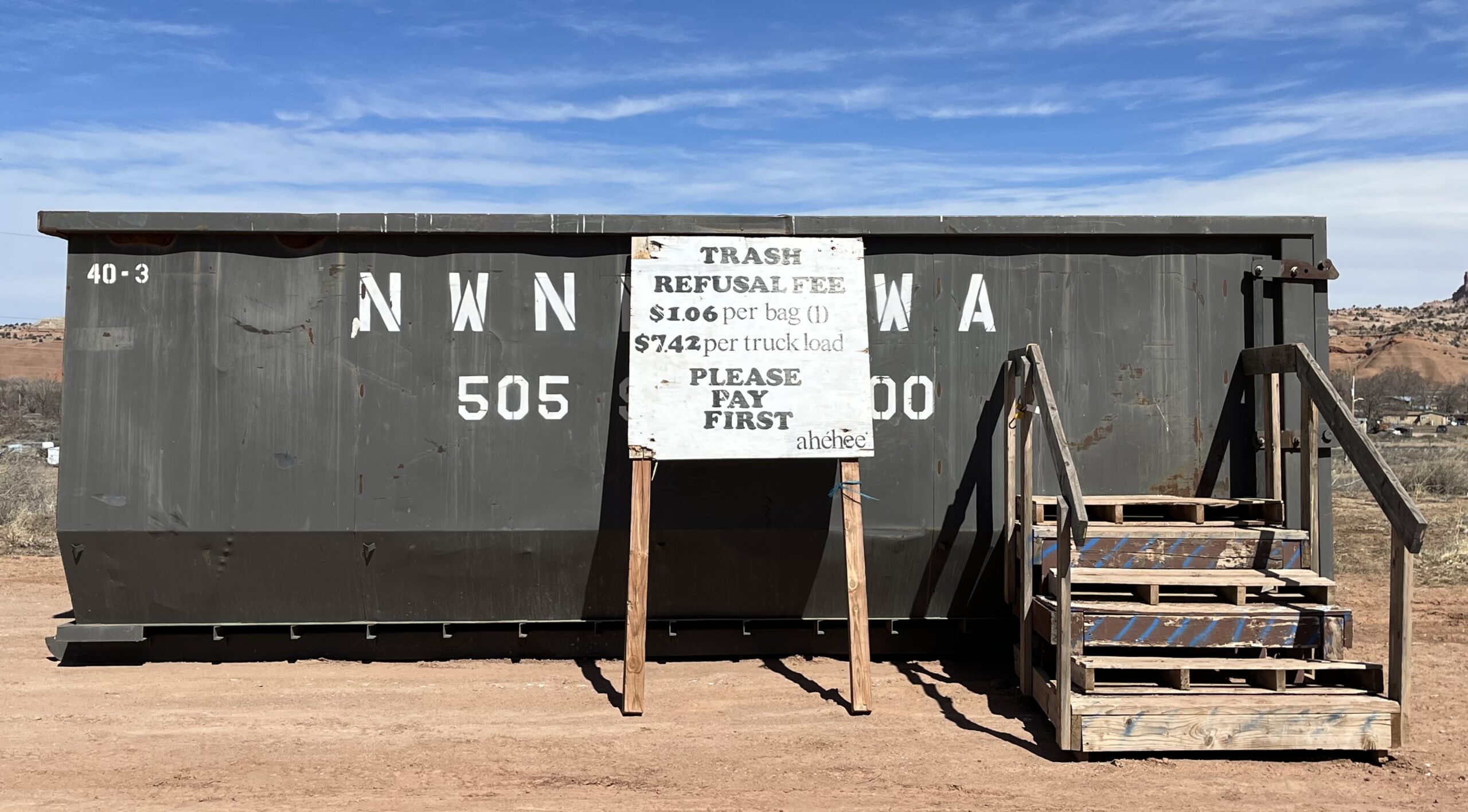 PLEASE PAY BEFORE YOU DUMP!

6% NAVAJO NATION SALES TAX IS INCLUDED IN OVERALL RATES
HOUSEHOLD TRASH ONLY!
ALL TRASH MUST BE IN TRASH BAGS!
NO FURNITURE, ELECTRONICS, TIRES, MATRESSES, NEEDLES, LAWN CLIPPINGS/WEEDS, ASH, ETC…
Chapter Business
What's Happening & How to Get Involved
Next Monthly Chapter Planning / Regular Meeting:
          PLANNING MEETING:                        CALL-IN NUMBER:              PIN NUMBER: 
 Sunday; October 1, 2023 @ 9:00am                                                   GOOGLE MEET:  
          REGULAR MEETING:                         CALL-IN NUMBER:              PIN NUMBER: 
Wednesday; October 4, 2023 @ 9:00am                                                                                                                     GOOGLE MEET: 
*A CALL-IN PHONE NUMBER & ACCESS CODE IS REQUIRED TO LISTEN IN ON THE MEETINGS VIA TELECONFERENCE. TO LISTEN IN ON THE MEETING VIA GOOGLE MEET, ENTER IN THE GOOGLE MEET CODE PROVIDED. YOU CAN FIND THE NUMBERS / CODE LISTED ABOVE. 
______________________________________________________________________________________________________________________________
*Please make note that each meeting will have a different call in number and Google Meet code.
*Please mute your phone/mic when joining the meeting until it is your time to speak or ask a question.
IF ATTENDING THE MEETINGS IN PERSON:
*Please be informed that for the safety of yourself along with others around you, COVID-19 precautions still must be taken to keep everyone safe and healthy!
*Mask wearing is optional but strongly encouraged as well as social distancing.
District 16 Land Board Meeting:
    When: Friday; October 6, 2023
Where: TBA
Time: 10:00AM
Joint Land Board Meeting:
When: Friday; October 20, 2023
Where: TBA
Time: 10:00AM
Veteran's Meeting:
When: Sunday, October 8, 2023
Where: Church Rock Chapter
Time: 1:30PM
Local Senior Advisory Council Meeting:
When: TBA
Where: TBA
Time: TBA